Nocturne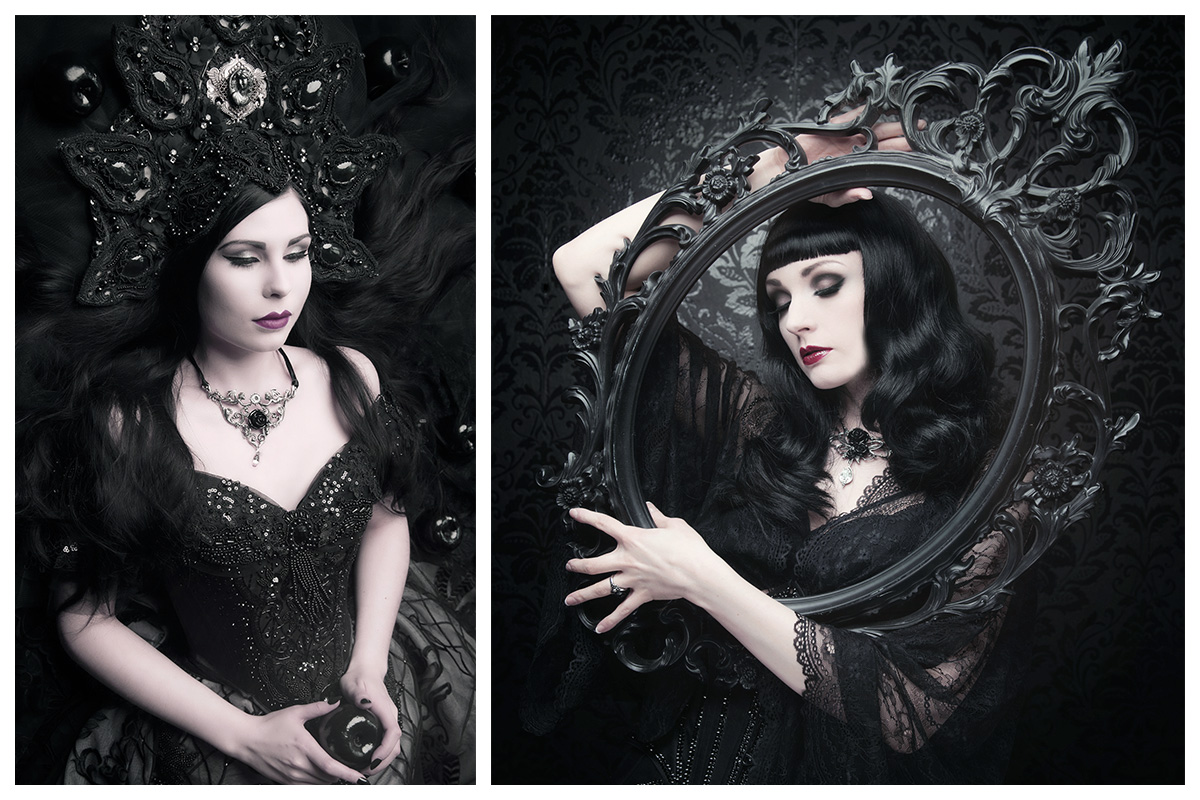 We have a plethora of beautiful black rose themed pieces, such as the Mesukmus Necklace (P795, above left) featuring two bat-winged cherubs above a large black enamel rose. The classic Bacchanal Rose Necklace (P700, above right) has been a long time favorite and features three black roses and a large white crystal dropper that makes the piece look very classy. Great for more formal gothic events like Vampire Balls and Masquerades!
Accent your necklace with our Bacchanal Rose Ring (R223) to really finish off an outfit and add that final touch of beauty. The ring features a black enamel rose with two white Swarovski crystals on either side.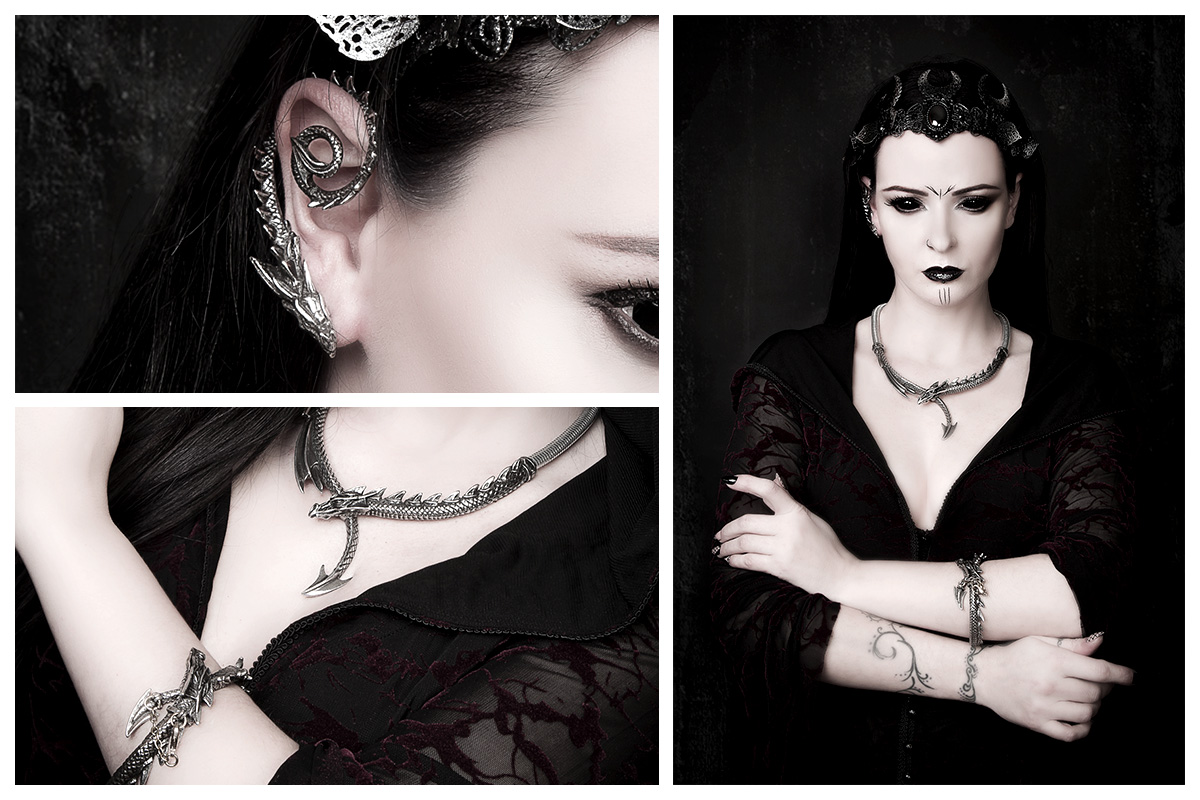 If you like dragons and snakes, then you may love our Dragons Lure collection which features long, draping, snake-like dragon designs. Featured above is the Ostrogoth Ear-Wrap (E412), Dragons Lure Necklace (P829), and Dragons Lure Bangle (A124).
To the left is the original Dragons Lure Ear-Wrap which comes for both left (E274L) and right (E274) sides in a plain pewter color. There is also a black version, available for the right side (E274B).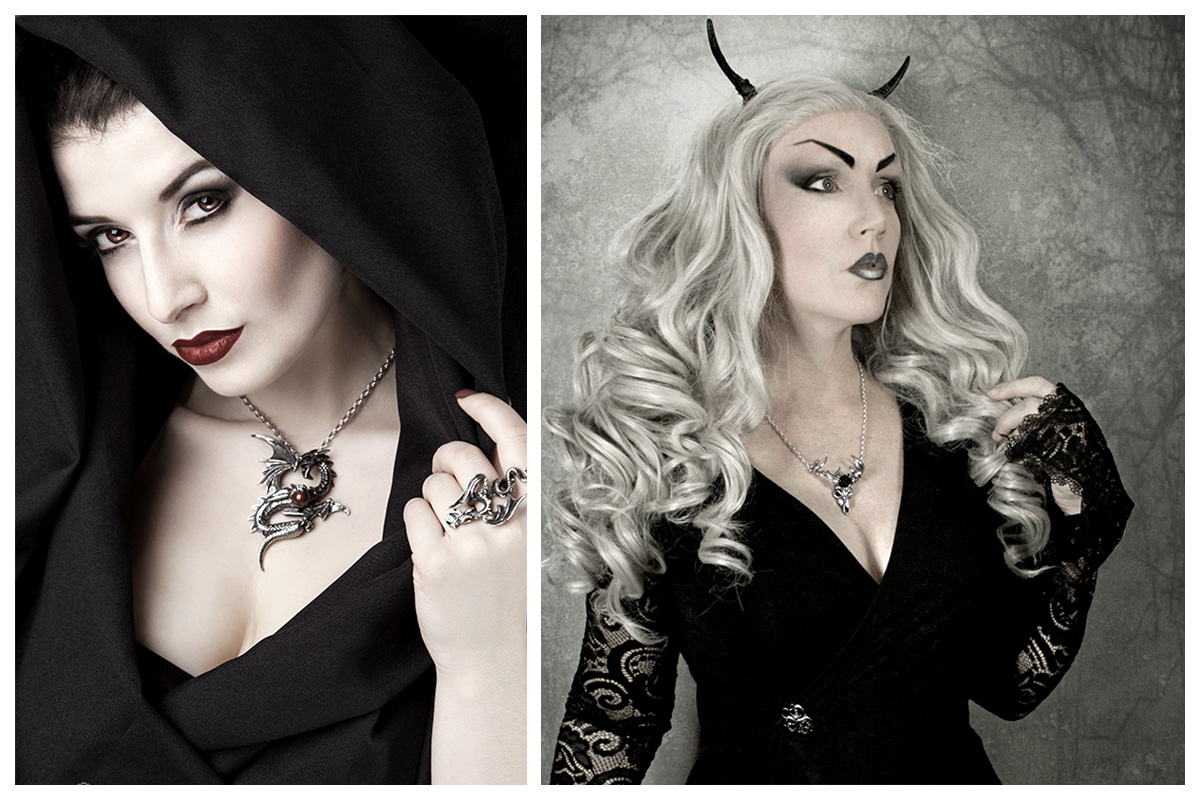 For fans of the more traditional winged dragons we have the Aethera Draconem Pendant (P756, above left), and the Starchaser Ring (R190, above left). The Aethera Draconem distinctive attribute is a blood red orb, held by the dragon. While the Starchaser Ring features a green Swarovski crystal in the dragons mouth.
Also shown (above right) is the White Hart, Black Rose Pendant (P807), which is a reference to a stag skull and black rose used to symbolize Herne the Hunter in mythology. It is a beautiful piece!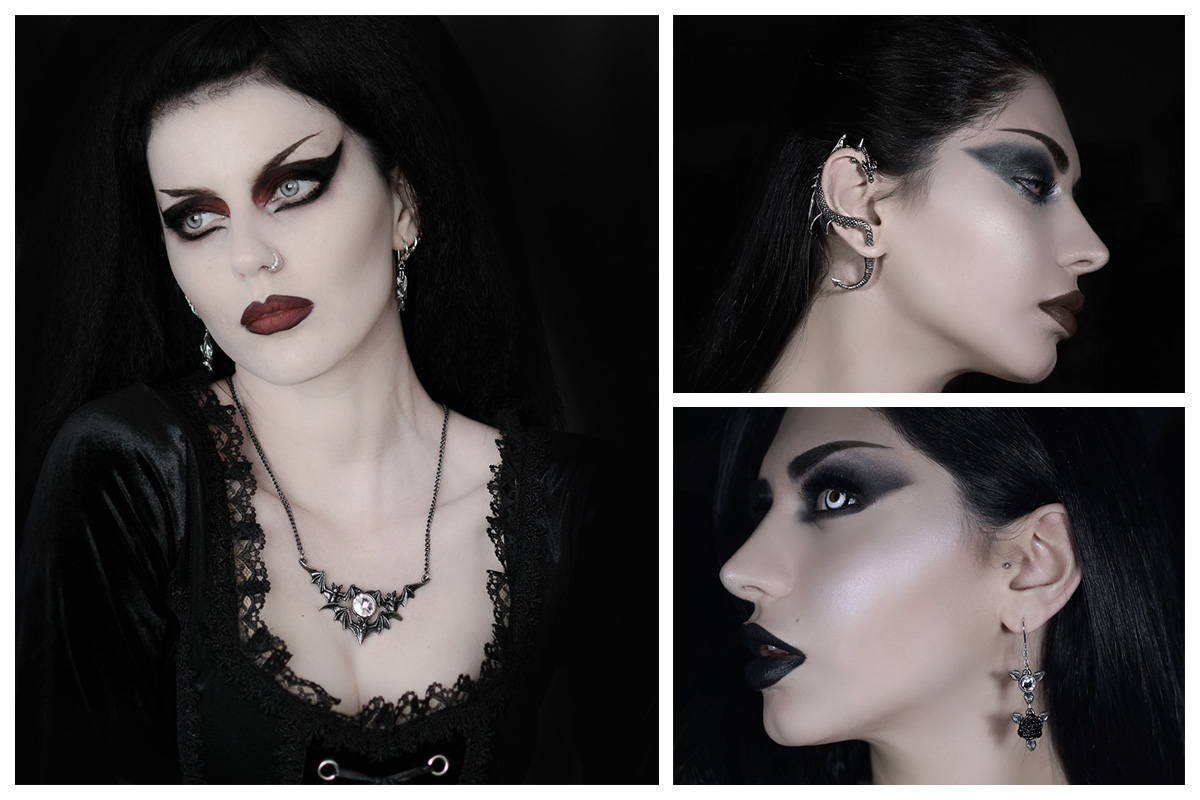 For bat lovers we have the Phantom Necklace (P852). This trio of bats surround a large white crystal moon. Paired with it, in the above left image, are the cute sleeping bat earrings called Awaiting the Eventide (E373). The bats are roosting upside down from the ear lobes and are some of our favorites. In the upper right we have the Dragon Lure Ear-Wrap mentioned earlier, and at lower right is the Ring 'O Roses Earrings (E398). They feature a white crystal and dangling black enamel rose bloom.
At right you can also see our Dark Wolf Wrist Strap (A132), featuring the ferocious head of a nocturnal wolf, possibly even a werewolf?